Vitamina Sailing dominates the race on Lake Garda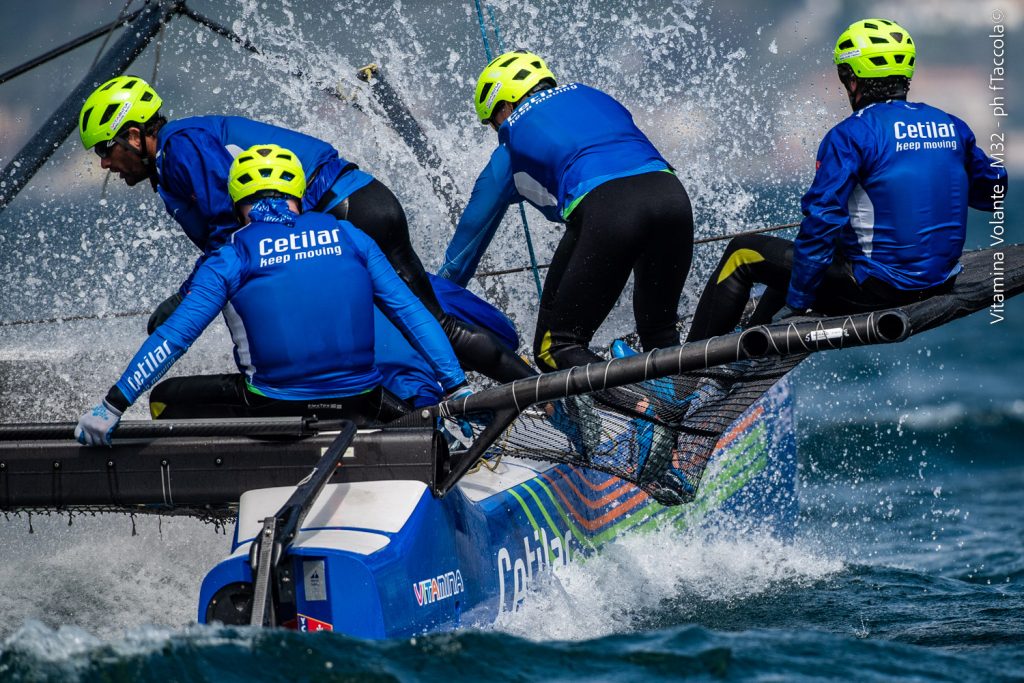 Vitamina Sailing's super season gained yet another major result last weekend on Lake Garda.
Busy at the last European appointment on the M32 catamaran circuit, the crew led by the skipper Andrea Lacorte, alongside the Team Manager Matteo De Luca and New Zealanders Adam Minoprio, Stewart Dodson and Will Tiller, won the last leg in the European Series, organised by Fraglia Vela from Riva del Garda along with the M32 class. The event was also valid for the European Championship. But there's more.
Vitamina Veloce Cetilar, the spectacular M32 catamaran sailed impeccably as ever by Andrea Lacorte, not only won the continental title but also made its mark on the European circuit, an exceptional full house that underlines just how dominant the Vitamina Sailing season has been in the M32 class.
Three days of regattas on Lake Garda and a total of fifteen races fought by the M32 fleet, of which ten were won by Vitamina Veloce Cetilar, with a final ranking that rewarded Lacorte's crew with a clear victory, followed by the American James Prendergast's Gravedigger and the Swedish Hakan Svensson's Vikings, the crew that ended the European circuit in second place behind Vitamina (the Danish Warrer Racing came in third).
"Three exceptional days of sailing and a double -indeed triple- victory, which more than paid off all the efforts we made this year in this sports catamaran class," Andrea Lacorte declared after the prize-giving ceremony for the European title, the leg win and the 2023 circuit. "Lake Garda and the M32s are a perfect combination, the regattas are always wonderful, tough, challenging and never banal. We enjoy a tough battle in a location like Lake Garda, which is unrivalled for competitive sailing, and we are really pleased that we raced a practically perfect European season."
Having completed the last race in the European Series, 2023 is not over yet for Vitamina Sailing, which in the M32 class won two European titles and four victories on the continental circuit: the team at the regatta for the Yacht Club Repubblica Marinara di Pisa, with the support of Cetilar®, a brand of the PharmaNutra pharmaceutical company, will still be racing its second boat, the Club Swan 50 Vitamina Cetilar, in the regattas reserved for yachts from the Nautors Swan shipyard, starting with the Copa del Rey in Palma de Majorca in early August.