Our scientific background
The Innovation of Cetylated Fatty Acids
After years of research, PharmaNutra presents Cetilar®, a formulation containing cetylated fatty acids (CFA) dedicated to muscle and joint health, designed to provide an effective and practical answer to everyday problems encountered in the world of sports.
What are the cetylated fatty acids (CFA)
contained in Cetilar® products?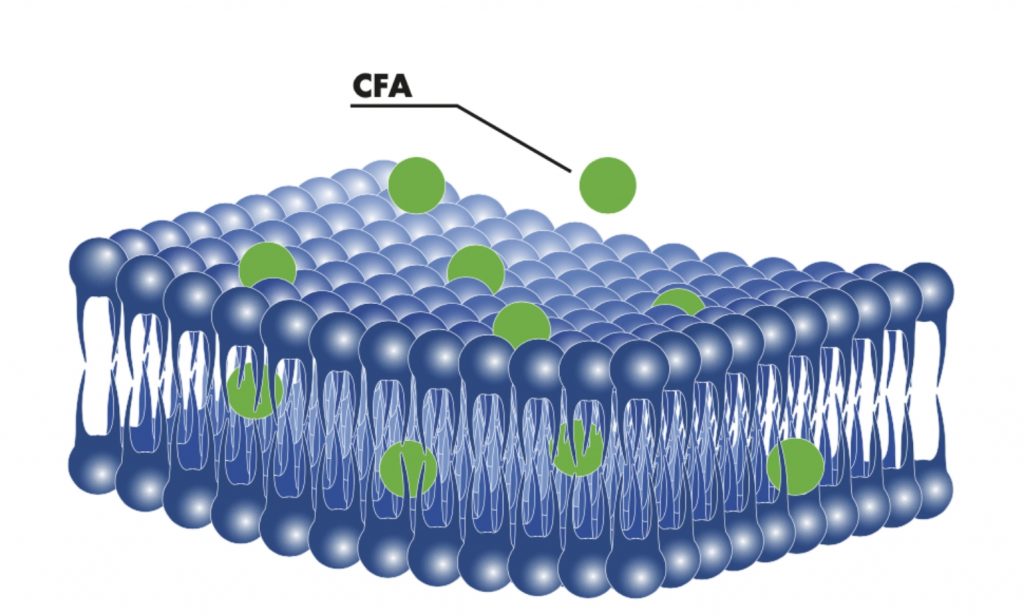 Cetylated fatty acids (CFA)
are a patented blend of plant-derived fatty acids and cetyl alcohol that, when combined with therapeutic massages, can help reduce joint and musculoskeletal pain, as well as improve the range of motion and joint function.
Scientific research and technological innovation
Over the years, PharmaNutra has made hefty investments to develop new formulations capable of effectively responding to the problems associated with the treatment of musculoskeletal disorders. The idea originated from discussions with sports and physiotherapy professionals, who are constantly looking for safe, effective and easy-to-use products for motor recovery and muscle and joint health.
Cetilar®, a natural aid to joint physiology
Developed and manufactured by PharmaNutra, Cetilar® is a highly concentrated complex of cetylated fatty acids (CFA) that stabilise and lubricate the cell membranes, enabling normal joint flexibility and mobility, and reducing joint, muscle and tendon pain. CFAs, obtained by reacting naturally-derived fatty acids with Cetyl Alcohol, quickly and effectively pass through the skin barrier, which is normally impermeable to many of the active ingredients available on today's market. This mechanism not only restores function to the damaged membrane, but also rapidly reduces joint and musculoskeletal pain.
Cetilar®, the evolution of cetylated fatty acids
The recent launch of Lipocet®, an innovative food based on cetylated fatty acids developed by PharmaNutra, represented a strategic opportunity for the Group, which has focused its efforts on researching and developing new food solutions for musculoskeletal health such as Cetilar® Oro, the first dietary supplement containing cetylated fatty acids (CFA) available as an oral suspension.
CETILAR® ORO:
a unique and inimitable food product
The only cetylated fatty acid preparation for oral administration
The only formulation designed for healthy joint membranes
Exclusive PharmaNutra S.p.A. patent and marketing authorisation
"PharmaNutra's Sucrosomial® Technology was developed in response to widespread iron deficiency, a nutritional deficiency that is difficult to solve due to the strong side effects of usual iron therapies.
The patent filed by PharmaNutra, is a unique delivery system that has revolutionised the mineral sector. Sucrosomial® Iron has been described as the most innovative oral iron, as confirmed by numerous studies and awarded by Nutraingredients.com magazine."
"PharmaNutra has refined its Sucrosomial® Technology and expanded its application to other essential minerals, such as magnesium, zinc, selenium, iodine, calcium and chromium.
Indeed, the company has developed advanced nutritional delivery systems capable of enhancing an ever-greater number of elements with the aim of improving the tolerability, bioavailability, and absorption of these nutrients, which are increasingly central to the pharmaceutical, nutraceutical and food markets."


PHN's experience brings Cetilar® Nutrition
Using the same scientific method, PharmaNutra's R&D laboratories developed Cetilar® Nutrition products; an innovative line designed for the supplementation of competitive athletes and those who practise sport consistently, to enable them to perform better.
The line consists of:
– carbohydrates for proper energy release in gel and powder form
– protein and energy bars available in exclusive flavours
– a protein and carbohydrate complex for post-sports recovery
– A salts and minerals formulation for rapid hydration
– A dietary supplement specially developed to improve sleep
– An immunomodulant and antioxidant for the all-round strengthening of the body
All the products in the Cetilar® range are Play Sure Doping Free certified, in that they are medical devices without any doping substances and are therefore particularly well-suited to athletes of all levels.